Alpine Roads - Italy
The Petit St Bernard Pass to Aosta
La Thuile
La Thuile is best known as a ski resort in the Aosta valley, linked with the French resort of La Rosiere on the other side of the Petit St Bernard pass. In the summer, it also welcomes visitors and is a pretty little Alpine town, nestling in a deep valley.
The road crosses the river on its way into town using this bridge. Later photos on this page are taken from on top of the bridge. The second picture is the main street. Thwe river is down to the left of the wide pavement. In the third picture, we are looking south from the bridge - the river is just to the left of the road.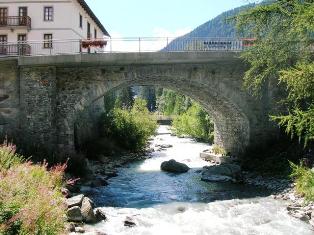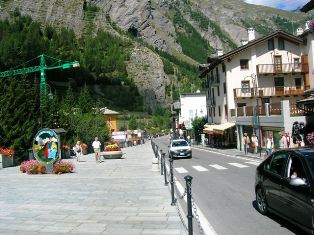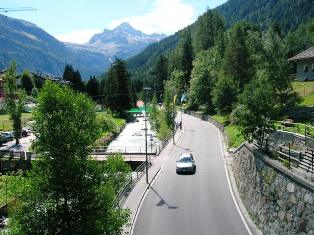 In the first picture below, we are looking north from the river bridge. The broad pavement referred to earlier is visible on the right hand saide of this picture. We also explored some of the side streets, and the middle picture below shows one of these climbing up from the town centre.
In the final picture below, we have left La Thuile, and are making our way north-east towards Aosta. In this area, the barriers become much more substantial, as the hairpins are built on retaining walls into the side of the mountain. You still get some good views of the mountains beyond.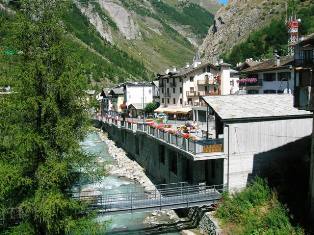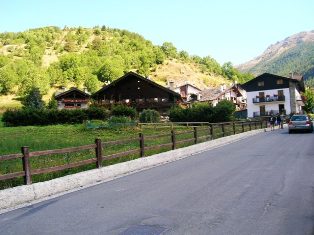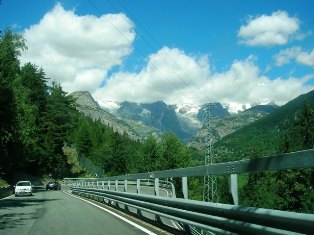 On the next page, we complete the journey to Aosta.
---
Italy - Petit St Bernard to Aosta - The descent from the pass
Italy - Petit St Bernard to Aosta - La Thuile
Italy - Petit St Bernard to Aosta - on to Aosta
---
Copyright © 2006 Simon Davies