The Alps
From Albertville to Annecy
Ugine to Faverges
Our journey starts north of the Alpine city of Albertville, perhaps best known for its role as the host city for the 1992 Winter Olympic Games. Albertville is actually a small town, and seems to me to be an unlikely host city for the Olympics when compared with such places as Turin, Salt Lake City or Vancouver. In fact, a small amount of research indicates that many of the events took place outside Albertville itself, and some of these were a fair distance away in places that we shall be visiting at some stage on Rural Roads.
You may be wondering why there are no pictures of Albertville on this site. Well, quite frankly, I found it to be a scruffy town with not particularly interesting buildings. The Olympic park was bordered by a big retail park. Not terribly interesting.
We headed north from Albertville on the N212, turning onto the N508 at Ugine (here). We then headed in a north-westerly direction towards Annecy. The pictures begin shortly after leaving Ugine, though I can't be absolutely certain where each one is taken.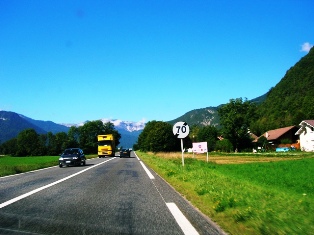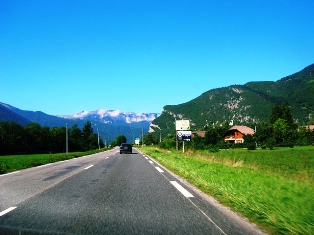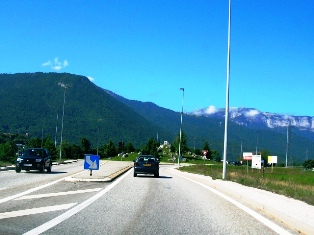 As the pictures show, we are driving in a broad flat-bottomed valley along a good single carriageway road. This is somewhat of a rarity in this part of France, most of the roads we drove on were anything but straight, with hairpin bends being very common.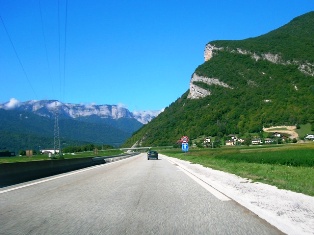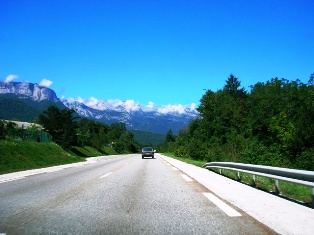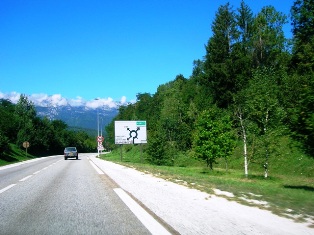 The roundabout for which we can see the signs is situated just to the west of Faverges, here. A good look at the map shows that we have just been on a short bypass. I think the section of road east of here is signed as semi-autoroute.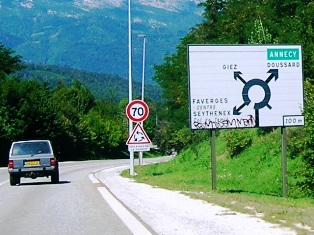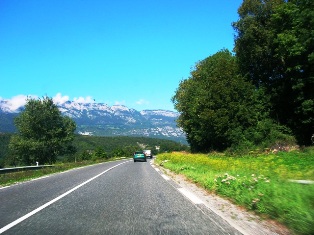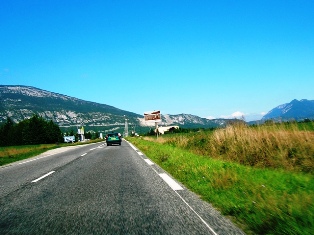 As we continue towards Annecy, the valley continues to get wider, in order to accommodate Lake Annecy. You can see more about Lake Annecy on the next page.