Alpine Roads - Italy
The Petit St Bernard Pass to Aosta
The descent from the pass
This page follows on from my trip over the Petit St Bernard pass, which can be seen here.
Having crossed the Italian border at the head of the Petite St Bernard Pass, we are now on the S26 route which runs in a north-easterly direction via La Thuile (more of that later) to Courmayeur, near the southern portal of the Mont Blanc Tunnel.
The pictures on this page are taken just to the west of Pont Serrand, which, in turn, is south-west of La Thuile. The descent from the pass is much more gentle than on the French side, with fewer hairpins, although the photos below are taken in one of the bendiest sections.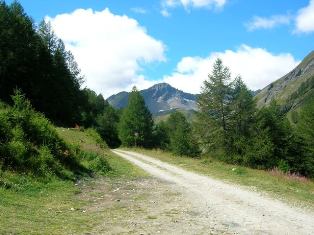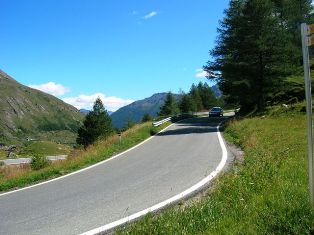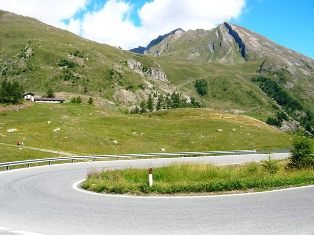 On the map, just to the west of Pont Serrand, you can see a track heading west into the mountains - this is the track shown in the first picture above. The next two pictures show the road coming down the hill to our vantage point, and the hairpin bend. Compare the standard of this road with the road on the French side of the pass, here.
In the photos below we are looking north through the gap in the mountains. If you look very carefully, nestling amongst the clouds in the gap is a very high snow-capped peak - I think this is Mont Blanc.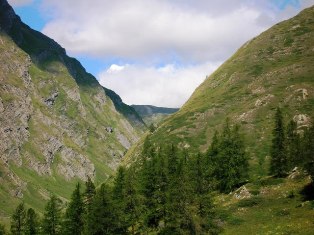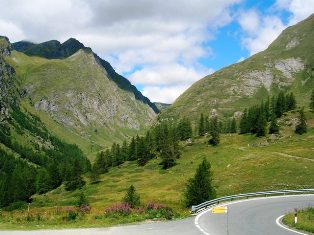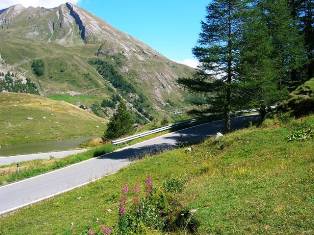 On the next page, we reach the small Alpine town of La Thuile...
---
Italy - Petit St Bernard to Aosta - The descent from the pass
Italy - Petit St Bernard to Aosta - La Thuile
Italy - Petit St Bernard to Aosta - on to Aosta
---
Copyright © 2006 Simon Davies