Alpine Roads - Italy
The Petit St Bernard Pass to Aosta
On to Aosta
After leaving La Thuile, we continued along the SS26 towards Aosta. The first picture below is taken near Pre-saint didier, and at around the same time as the last photo on the previous page.
We then moved on towards Aosta by continuing on the SS26 until we met the A5 corridor. We didn't use the Autostrade, we chose to stay on the local roads. Having seen lots of places earlier in the day near the side of the road that would have made good picnic spots, once we decided that we were ready to eat, it took a while to find somewhere. We pulled off the SS26 at La Salle (area map) onto a local road, here, which is where we ate our picnic, and where the next four pictures were taken.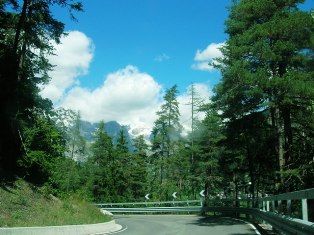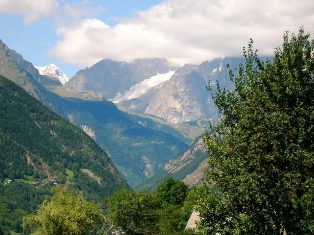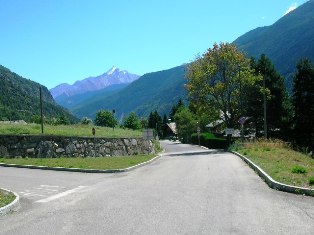 The middle picture above is taken looking back towards the Petite St Bernard pass, and the third picture above is looking in the opposite direction towards Aosta. I've no idea what these mountains are called so if someone can enlighten me, I'd be pleased to here from them.
In the first picture below is the minor road where we parked at La Salle, looking west. The second picture looks slightly south-west.
The final picture is back on the SS26, just outside Aosta at a junction with the A5 Autostrade. I've included it because it shows how this part of the Alps is a lot less green than the areas in France that we had visited. It has a much stronger Mediterranean feel about it.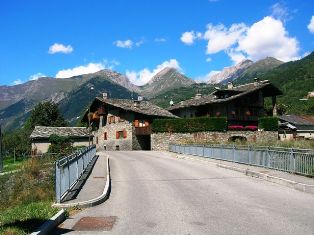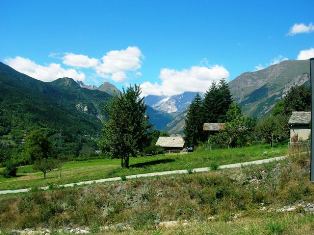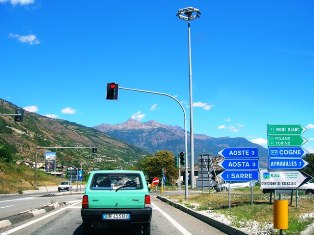 That's it for the moment - watch out for the coming pages on the drive either side of the Grand St Bernard Tunnel.
---
Italy - Petit St Bernard to Aosta - The descent from the pass
Italy - Petit St Bernard to Aosta - La Thuile
Italy - Petit St Bernard to Aosta - on to Aosta
---
Copyright © 2006 Simon Davies