The Cornish Coast
A Look Around The Lizard
The southernmost point on the British mainland is Lizard Point, in south-west of Cornwall (here). In case you have any doubt about how far south this place is, the Lizard penisnula is the only place in mainland Britain less than 50 degrees north of the Equator. It is 315 miles away from London by the quickest route (via M4 and M5), and 285 miles by the shortest route. It is also over 100 miles further south than London and the M4 corridor. From my home (Hertfordshire, Carlisle is actually nearer thah The Lizard. In short, it takes a very long time to get there, unless you are in Devon or Cornwall. (It took over two hours to get from the Lizard to the Devon border, but that was on a summer Saturday morning).
The Lizard is a large plateau, rising to about 300 feet in the middle, and is made out of very hard old rocks. Along most of the coast, the rocks give way suddenly to the sea, resulting in lots of cliffs, interspersed with little coves and sandy beaches.
The Lizard is approached on the A3083 running south from the A394 at Helston. When you leave Helston, the first place you reach is RNAS Culdrose. As one of the biggest employers in the region, this place is responsible for much of the traffic in and around Helston. We start with some pictures of the roads on the approach to Helston and around Culdrose.
The first photo is taken on the A394 heading west towards Helston, about 3 miles outside of town. The second is taken on the edge of Helston, and shows a new road under construction. I've been unable to find out much about this road, and it is not marked on any map at this stage.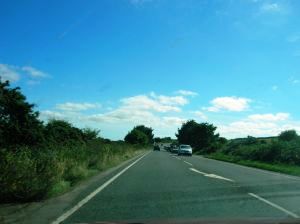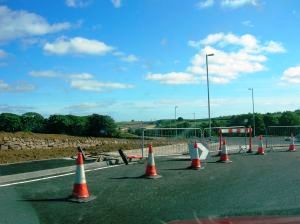 In the next picture, we have turned onto the A3083 and are heading towards what appears to be a giant golf ball, which I assume is connected with radar for the airfield. The golf ball is marked on the map here.
Staying on the A3083, we pass under this bridge which is part of the main gateway to Culdrose. .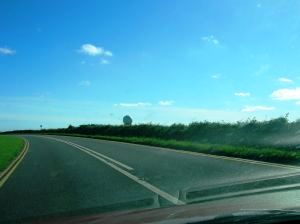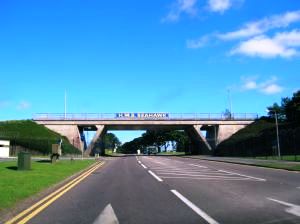 So far the road seems a million miles from the kind of thing I usually include on this site, but all that changes once we pass Culdrose. Except for Goonhilly, that is.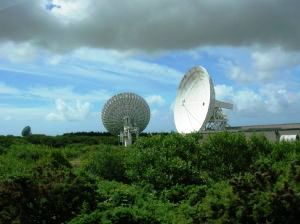 Goonhilly is the largest satellite earth station on the planet, and has over 60 large satellite dishes that dominate the landscape in the central plateau of the Lizard peninsula. It was here that the first live TV from America was received, and the station continues to play a major part in worldwide telecommunications.
Beyond Goonhilly, things really do change. Over the next few pages I will take you to a number of seaside villages and hopefully show why it is worth driving every one of those miles to get here.
---
Cornish Coast - Intro to the Lizard
Cornish Coast - Coverack
Cornish Coast - Helford
Cornish Coast - Kynance, Lizard and Kennack
Cornish Coast - St Keverne
Cornish Coast - Penzance, Newlyn and Mousehole
---
Copyright © 2005 Simon Davies