Winnats Pass - Peak District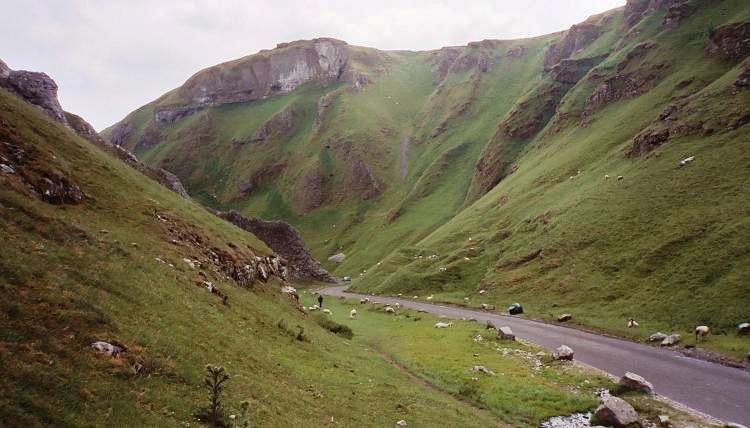 The Hope Valley in the Peak District National Park is a stunningly beautiful part of the world. In days gone by, the A625 made its way through Hathersage and Castleton on its way across the Pennines between Sheffield and Chapel-en-le-Frith. However, in the late 70s, the road was closed, resulting in the curious statement in road atlases of the time saying that there was no through route on the A625 at present - something which fascinated me for a long time.
Steven Oliver has very kindly provided a road atlas scan showing the closure.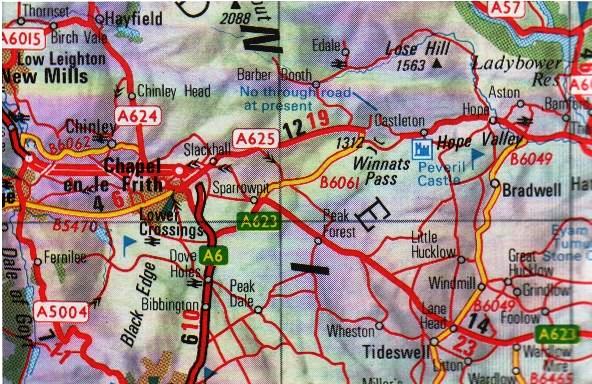 I have loved this area since I first visited it in 1989. Two years into my degree, I went on a University field trip to the Hope Valley, which included a look at the reason why the A625 was still closed to through traffic, and an answer to my earlier curiosity. Over many years, the road had been subject to a series of landslides, and eventually it was decided that the road was beyond the point of repair, leaving traffic heading west from Castleton with only one option - that of negotiating Winnats Pass, a steep climb through a narrow valley. I don't propose to go into too much detail about the collapse of the A625 as Paul Berry has done so here - his site includes a series of photographs showing the cracks in the road and multiple layers of surfacing. Following the closure of the A625, the only way from Castleton to the west is via the Winnats Pass. To find this road on a map, look here. On this map, the footway symbol to the right of the National Trust symbol indicates the line of the old A625.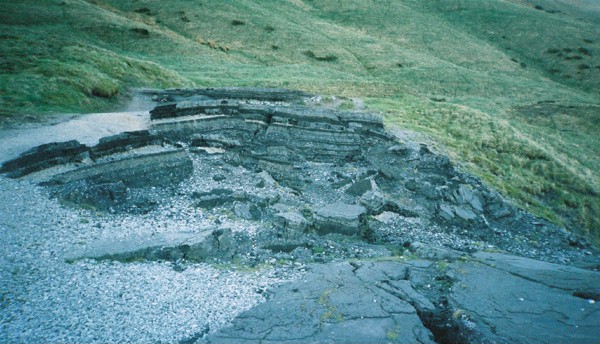 Put simply, the road climbs steeply though a ravine, rising up from the Hope Valley to the south of Mam Tor, reaching Windy Knoll where we rejoin the old A625 which continues west along Rushup Edge.
At this point I must also extend my thanks to Paul Berry for taking the photographs on this site of Winnats Pass; without Paul's contribution this page would not have been possible.
July 2005 - I have been back to the Peak District for the first time in 10 years and have taken my own photos of the collapsed A625, which can be seen here.