The Roads of Dartmoor
Introduction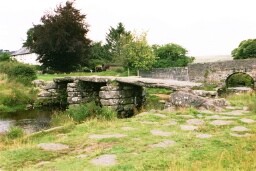 Described by some as England's last great wilderness, Dartmoor is known as a vast expanse of open high level land with few roads. It is popular with walkers, but the MOD don't seem to like it very much as they have designated large areas as Firing Ranges - you should seek local advice before entering those areas of land marked as Danger Area on the map.
The Dartmoor National Park consists of large areas of open moorland as well as wooded valleys and old towns and villages. This page concentrates predominantly on the more open north-western section of the moor rather than the wooded valleys of eastern Dartmoor. Perhaps one day I'll get over there to take more photos!
When roads in Britain were originally classified, the A384 ran from Launceston in Cornwall via Tavistock, then across Dartmoor via Two Bridges and Dartmeet before emerging the other side at Ashburton on the A38. It then ran south east, ending up just short of Totnes. These days, only the final section between Ashburton and Totnes is still the A384, the remainder of the road has been downgraded to the B3362 between Launceston and Tavistock, B3357 between Tavistock and Dartmeet and unclassified between Dartmeet and Ashburton. Over the next few pages we look at the B3357, as well as the B3212 which runs from Yelverton to Moretonhampstead via Postbridge - the site of the world famous clapper bridge.
To find these roads on a map, click here. The roads are, of course, the B roads at the centre of the map.
Oh yes, if you're interested, the infamous Dartmoor prison is situated in the triangle of B roads to the north-east of Princetown. The land in that triangle is the prison farm!
---
Dartmoor - Introduction
Tavistock to Princetown
Princetown to Dartmeet - Part 1
Princetown to Dartmeet - Part 2
Towards Postbridge
---
Copyright © 2004 Simon Davies