The Southern Peak District
This section of the site looks at some rural (and not quite so rural) roads in the southern part of the Peak District.
A look around Monsal Head
We start this section of the Peak District National Park with a look at the view from the road side rather than pictures of the road itself. Monsal Head is situated on the B6465 a couple of miles north of Ashford in the Water, on the A6. You can find this on a map here. I parked in the little car park, from which you can see down into Monsal Dale and Miller's Dale. I think I'll let the pictures do the talking.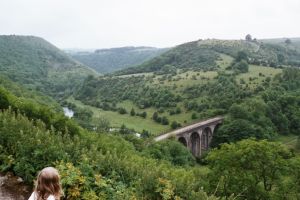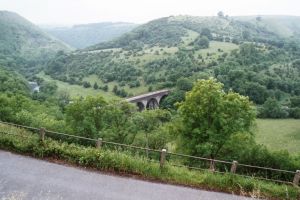 The first two pictures show perhaps the most surprising feature of the view into the valley. We are looking down to the top of a former railway viaduct. The track bed of the railway is now the Monsal Trail and is a popular cycle and walking route. A look at the OS map tells us that the railway ran from Bakewell, and crosses under the B6465 in a tunnel, which emerges part way up the valley side, running directly onto the viaduct to cross the head of Monsal Dale. The tunnels are closed to the public.
In the foreground of the second picture, we see some of the steep narrow road that runs down the valley side and into Miller's Dale.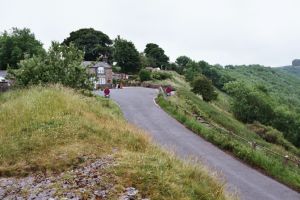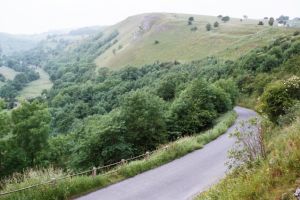 Here we see in a bit more detail, the slope down to the valley floor. The first looks left towards the top of the hill, and the second looking down in the other direction. The road curves down to the left following the valley side, and then runs along the valley floor to Cressbrook.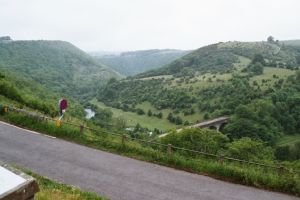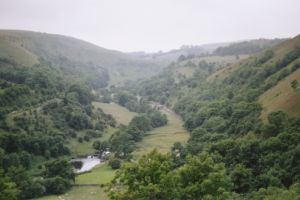 The final two pictures are again taken from the viewpoint at the car park. The left hand one looks beyond the viaduct into Monsal Dale, and the second one looks into Miller's Dale. You can just pick out the road to Cressbrook in the middle of the picture.