Glen Nevis
Near Fort William
View Larger Map
Possibly the most beautiful glen in Scotland, Glen Nevis carves a narrow valley between Ben Nevis and the less well known, but more interesting Mamore Forest range of mountains. Running south east from Fort William, there is a public road running for the first few miles along the lower, flatter part of the Glen. Then, as the road gives way to a track, the glen climbs more steeply. The section of road that I visited is shown in the map below.
To the north-east of the Glen is Ben Nevis, Britain's highest mountain, reaching a lofty 4,400 feet, lofty, that is, by British standards. The main path up the Ben runs from Achintee Farm, situated at the Fort William end of the Glen. It is a long trudge, but I am told the views are worth the effort if you pick a clear day. Not this week then! I climbed this way back in 1996 and saw nothing but the inside of a cloud.
To the south side of Glen Nevis lies the Mamore Forest range of mountains, ranging between 3,000 and 4,000 feet. Keen hill walkers tackle several of these peaks in a day. Others will be satisfied with one or two. At Achriabhach, there is a large car park which forms a good base for exploring the western end of this range.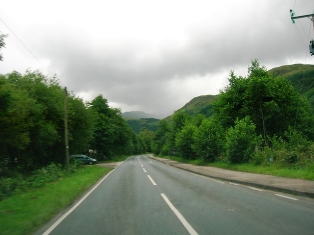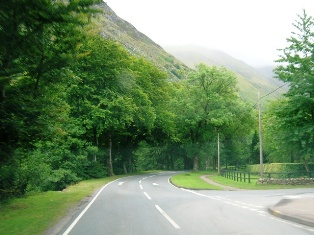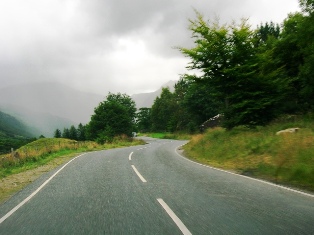 However, we start this collection with three pictures taken at the north end of Glen Nevis, near Achintee Farm, the well-known base for climbing Ben Nevis. Here the road is of a good standard - reasonably flat and straight..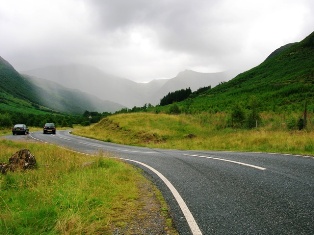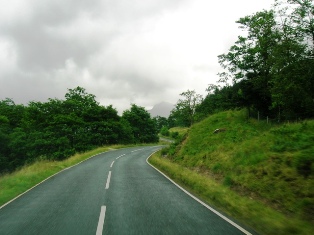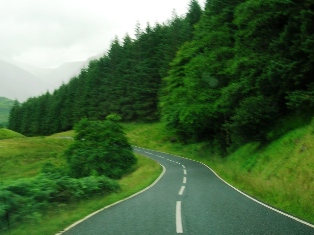 As we continue through the Glen, the road begins to undulate and turn, the surface following the contours of the valley, which is still broad and wooded at this point.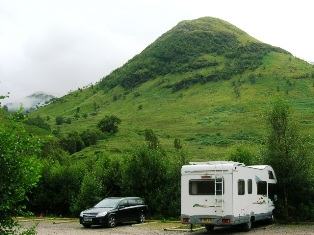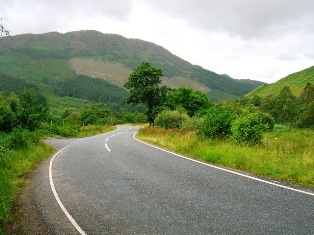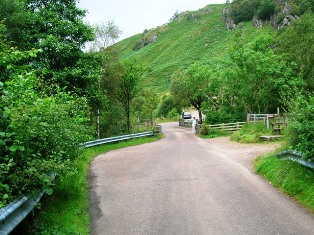 The first of these three photos was taken in the car park at Achriabhach, with a foothill of the Mamores in the background. The second picture is a view looking north up the main road from the car park entrance, and the final view looks across the bridge where the road narrows to a track.