The First Heritage Motorway - M45 Dunchurch to Crick
New Status for a Historic Road
Onward we go on our journey east along Britain's first heritage motorway, and we've hardly seen a soul! In the pictures below, the left hand one shows the bridge carrying the minor road from Barby to Kilsby. One of the two bridges in the right hand picture is the A361, just south of the north end of the route, having begun its journey in Ilfracombe, Devon. If you've never looked before, go and have a look at From Watford Gap to Camelot by David Craig - he describes the site as a "four-dimensional travelogue", drawing in elements of history, geography, the mythic and the mundane.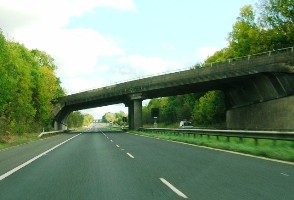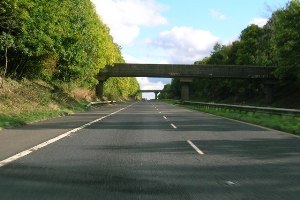 A more open view, then another bridge, and we then approach the M1. I was a bit slow off the mark with the camera here - the bridge that you can just see we are underneath carries the A5 - which is the road people used in these parts before the M1 was built.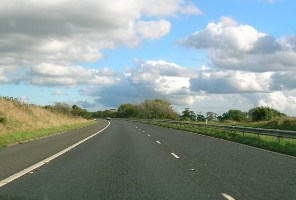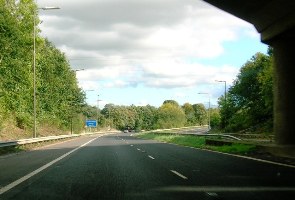 This is where the M45 carriageways diverge. See how the carriageway curves round to the right as it passes under the M1. That Motorways Merge sign'll have to go, as will the modern street lights - to be replaced with 1950s heritage columns. Rumours that gas lamps will make a comeback on this road are, apparently, unfounded.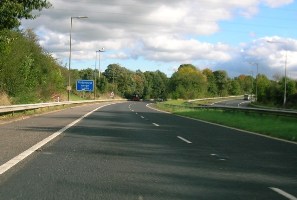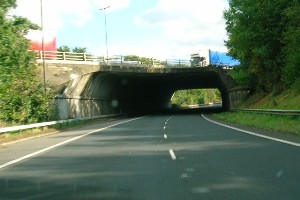 Here we reach the M1. I suspect the painted traffic island is not original, but at this stage we are joining a much busier road, so my guess is that this will stay. This is where our journey comes to an end. The M1 is busier than ever and work is under way to widen the section between Luton and the M25 to 4 lanes each way. Even before this work started, the motorway had changed substantially from when it was first built. It is far, far busier than anyone imagined. It is lit along most of its length. The grass central reserve has been paved. Bits of it are already 4 lanes. Not so the M45 - here we have a fine example of how things used to be, which will now be preserved in perpetuity.