What was new?
Details of previous updates are kept here.
Back to Main Page
6th October, 2006
Rural Roads is changing. The content is basically as it was before, but the site layout has changed slightly. More fundamentally, I have been revisiting the coding of each page and have ensured that the new style complies with the W3C XHTML 1.0 Transitional web standard. What soes that mean? I've no idea, but I think it is meant to ensure that various browsers display the page correctly. You will appreciate that this is a work in progress, and for the moment, the only bit that is properly done is the European section. I will be working my way through the British section over the next couple of weeks, but it is really a very tedious job.
20th September, 2006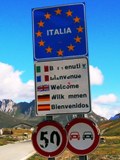 In the European Section, the first stage of the epic trip through France, Italy and Switzerland is now available, centred around the Petite St Bernard Pass on the Italian / French border.
15th September, 2006
Rural Roads has gone international with the launch of the European section. At the moment, there is one section, covering the road between Albertville and Annecy in the French Alps, but there is a lot more to come in the future...
7th July, 2006
In April this year I made yet another trip through the Brecon Beacons, and have added another half a dozen pictures of the A470 between Storey Arms and Brecon.
Nic Storr has been on a road trip to Scotland, via the Wrynose and Hardknott Passes in the Lake District. He took rather a lot of photos on his trip and he has very kindly allowed me to use a handful of them on this site - have a look at the Lake District pages to see them.
18th May, 2006
In April, I took a trip along the Exmoor Coast, following the A39 between Minehead and Lynton. Click here to find out more. The road includes the 1 in 4 Porlock Hill and Countisbury Hill and is a stunning drive. The day I went there was beautifully clear and sunny, giving rise to a reasonably decent set of pictures (with one or two exceptions).
Finally, I've received a number of e-mails questioning whether the story about the M45 that I posted to this site on the first of April was, in fact, an April Fool story. You may say that, but I couldn't possibly comment!
1st April, 2006
It has been a while, but welcome to the first update in 2006. And in some ways, it is sensational! In honour of the Government's recent announcement that the M45 is to be designated as Britain's first Heritage Motorway, I have gathered together my photos of the road and put together a section on what is a very rural motorway. To be quite honest, it is so rural, you wouldn't be surprised if you saw a farmer escorting his cows across the road for milking! That is my justification for including a motorway on this site. Click here to find out more.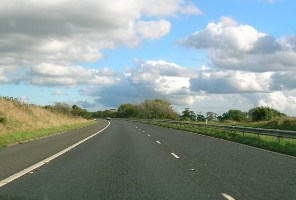 23rd November, 2005
I've been out and about again - today's offering features the Fosse Way between Stow-on-the-Wold and a roundabout with the A425 in a place that doesn't appear to have a name. The Fosse Way is a bit like that - nearly 2000 years old, but with very little development along the section I visited. In due course there will be other pictures from the Cotswolds, but I am yet to sort them out.
30th October, 2005
Today's update has, well, nothing new to offer in the way of content. However, the site has been redesigned to get rid of the HTML frames, which now means that it is possible to link directly to each page within the site rather than just linking to the home page. I won't get too technical about how I did this, but suffice to say that I am very grateful to Chris Marshall (of CBRD) and Paul Berry (wearing his Plusnet hat) for getting me to the point where these pages are on-line. Whilst I think I've now got all of the previous version of the site transferred to the new format, I've realised that there are one or two 'unfinished' bits that I will need to sort out soon. Anyway, enjoy the new layout and if you have any comments / contributions to make then I am always pleased to hear from people - please get in touch.
16th October, 2005
At last - the long promised section looking at the A6 over Shap Summit in Cumbria is finally on-line. Very many thanks to Steven Jukes for contributing these pictures. To visit the Shap pages, click here.
Having completed the projects I had in mind for the summer, I can now think about updating The Old Map Site. I've also got more to do around here, but I'll save that for another time.
7th October, 2005
Well, the more observant of you will have noticed a minor face-lift to the site, brought about by me eventually learning how to use Cascading Style Sheets. This should have resulted in a more uniform look to things. I've also finished preparing the pages covering the area around the Lizard in south-west Cornwall, so I can tick off another one of my summer projects from the list. To visit the Cornwall pages, click here.
14th September, 2005
The third of this summer's projects (and the second this week) is now on-line. On my way to Cornwall at the end of July, we stopped in Cheddar, where I took the opportunity to get some pictures of the gorge. To visit the Cheddar pages, click here.
12th September, 2005
The second of this summer's projects is now on-line. I've been back to the Brecon Beacons and taken lots of new photos to enhance the original Brecon Beacons pages on this site. In addition to revisiting the A470 and the A4059, I've been on the A4067 near the Cray Reservoir, so there's a few photos of that road here as well. To visit the Brecon Beacons pages, click here.
5th September, 2005
This is the first of this summer's projects. I took a series of photos on the Gower Peninsula, concentrating on the A4118 between Upper Killay and Scurlage, and the B4247 from there to Rhossili. I also took some pictures on Cefn Bryn and on the B4271 on the way back to Swansea. I hope you enjoy them. I should say that these photos were taken with my new digital camera rather than my old faithful SLR. I'm still learning how to get the best out of the digital camera! To visit the Gower pages, click here
19th August, 2005
Another month (and a bit) has passed by since the last update. Since then, the more observent will have noticed the arrival of a link to The Old Map Site, which is a site intended to show how the road network has evolved over the last 50 years or so.
Returning to Rural Roads, there is now a page covering the B1106 between Elveden and Bury St Edmunds. Since the demise of Tom Sutch's Apex Corner site, this site also hosts the pictures of his visit to the roundabout in Fornham St Genevieve, where all four arms are the B1106. Many thanks for those.
Finally, a confession. A few weeks ago, someone e-mailed me to say that locals know the section of the A6024 featured on this site as Holme Moss rather than Heyden Moor. Unfortunately, I cannot recall who said it, and I cannot find the e-mail either. Sorry to whoever it was who sent it - and thanks for the tip off. (By the way, the contact me button should link to a working address now).
9th July, 2005
A few things to report today. Firstly, Nic Storr provided me with a couple more pictures taken on the A470 through the Brecon Beacons, which can be seen here. EDIT, though that link works, the page has changed beyond recognition, so you'll have to hunt round for Nic's photos. They are still on the site, though.
Secondly, Chris Marshall has provided me with some excellent pictures of the A6024 across Heyden Moor, between Woodhead and Holmebridge, near Holmfirth. Many thanks to Chris and Nic for allowing me to use the pictures/
5th July, 2005
This must be some kind of record - less than 10 days after taking the pictures, I've managed to put together my pages on the Southern Peak District. Take a look at Monsal Head, Matlock Bath and the Dovedale area, and enjoy the view.
2nd July, 2005
This is an interim update because I was keen to get these pictures on the site. I've been back to the Peak District and taken some more photos of the collapsed A625 at Mam Tor, which can be found by following the Winnats Pass link in the menu. Or, you could just click here to go directly to the new page...
25th May, 2005
Just like London buses, a huge amount of time passes by and nothing much happens. Then, within a few days there are two updates to the site. This one introduces a series of pages about the B1004 between Bishop's Stortford and Ware, focussing particularly on the villages of Much Hadham and Widford.
21st May, 2005
Well, I make it over seven months since the last update to this site, so you could be forgiven for thinking that the first update of 2005 must therefore be huge. I'm afraid that this isn't the case - I've been catching up with some old photos of north Essex that I hadn't had time to do anything with.
However, I can promise a few more updates for the coming months - I've got a selection of pictures around Hertfordshire that I'm in the process of sorting and I'm hoping to go on a trip to the Peak District in search of more pictures to expand the section there. I'm also planning a trip to Cornwall via Cheddar Gorge so hopefully that will produce some more material for this site.
16th October 2004
I've been doing a bit of housekeeping - most of which shouldn't affect what you see on the site, but will find that bookmarks for the oldest pages (Brecon Beacons and Lake District Roads) won't work any more.
I've also begun to go through the site so that when you click on a picture, it no longer opens on a blank screen. Instead you get a bit of text and a link to take you back to the previous screen, as well as links to elsewhere in the site. So far, I've dealt with Essex in this way, and will update the other areas when time permits.
10th October 2004
A few changes today. First of all, Steven Oliver has very kindly provided a scan of the road closure of the A625 at Mam Tor, near Winnats Pass - you can see that here.
Secondly, there is a change to the front page - old What's New entries are archived on their own page.
Last, but by no means least, there's a brand new section looking at the rural roads of north-west Essex, including Thaxted and the picture-postcard village of Finchingfield.
6th October 2004
First of all, you'll have noticed that Rural Roads has moved house. There's a nice new shiny address - www.rural-roads.co.uk so no more messing around with Geocities and their annoying ads. The other major update is that the Winnats Pass pages are finally ready. My thanks to Paul Berry for his help in providing the photos, as well as the link to his page on the near by ex A625.
2nd September 2004
Still working on the Winnats Pass pages. In the meantime there's a few extra photos on the Brecon to Hirwaun Page, which is in fact now three pages and includes some bonus pictures taken around Carreg Cennen Castle.
25th August 2004
Nothing major this time - just a few spelling errors corrected and a bit more housekeeping. Also some advance warning of a slightly different kind of rural road - coming after I've finished the Winnats Pass pages.
21st August 2004
Well, the long awaited first update has arrived, in the form of five new pages and lots of pictures of Dartmoor - described by some as England's last great wilderness.
I've also tried to improve navigation within sections of the site - instead of links to the previous and next pages within sections, you now get a list of contents for each section so you can jump straight to the page of your choice.
Coming soon - a trip to Winnats Pass, near Castleton, Derbyshire.
---
Back to the Main Page