The Southern Peak District
The Approach to Dovedale
Dovedale is one of the finest valleys in Britain - its only fault is that its scenery attracts so many visitors, so you are never alone there. Nonetheless, there is much to be enjoyed there - good level walking for the less adventurous; stepping stones and a hill to climb - not too high, but one that affords good views of the surrounding area. But more about Thorpe Cloud later. You can find Dovedale on a map here.
We made our visit on a beautiful Sunday morning, after a good breakfast at our hotel. We approached the small village of Ilam on the minor road from Blore, and it is from this road that our first selection of pictures were taken.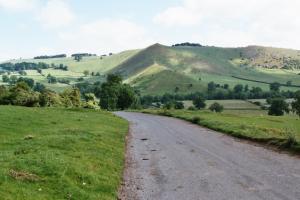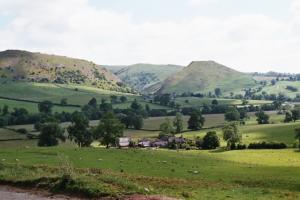 The first two pictures were taken from the same location, a short way outside Ilam. The two pictures together don't quite make a panorama, but come fairly close to doing so. The first picture looks towards Ilam and the second looks slightly to the east of here, giving us a very good view of the end of Dovedale, guarded by the flat-topped hill, Thorpe Cloud, just to the east of the valley.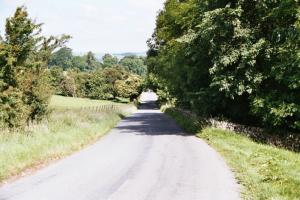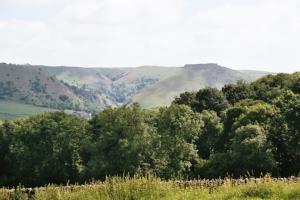 The third and fourth pictures were taken slightly nearer to Ilam, in a slightly more wooded area, which gives a different perspective on the scenery. Once again in the second photo, we can see across the broad Manifold Valley towards the narrow confines of Dovedale.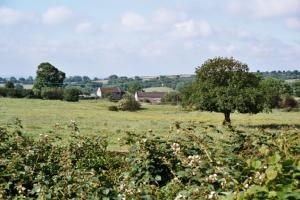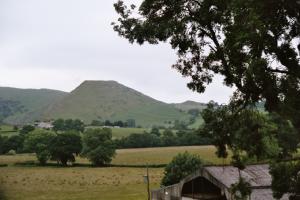 The fifth picture shows a general view across farmland - this one not taken in the same location as the other two, but about a mile to the south at Swinscoe.
The final picture returns to the road from Blore, and offers another view of Thorpe Cloud, framed by trees and a farm building. This one was actually taken on the Saturday evening, on a cloudier day, hence the lighting effect is different from the earlier examples.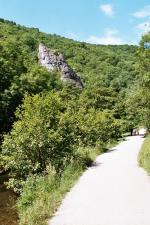 For more on Dovedale, visit: