The Southern Peak District
Matlock Bath
Matlock Bath is a pretty little resort town situated on the A6, just to the south of Matlock itself. You can find this on a map here. Warm springs were found here in 1698, and since that time it has been a resort town for the we althy of Derbyshire, and became available to a wider clientele when the railway was opened in the 1840s.
We made a brief stop here for lunch, but there is plenty to do here to keep you occupied all day if you feel so inclined. A cable car runs from near the railway station up to the Heights of Abraham. The Gulliver's Kingdom theme park is also near by, or you could just walk in the woods.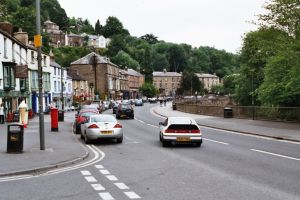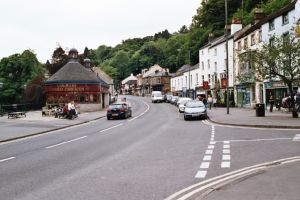 In 1819, a new Turnpike Road was built to Cromford, a mill town just to the south. I assume the Turnpike is what subsequently became the A6. These two pictures show the A6 running through the town - the first looking north and the second to the south. Behind the pavement on the east of the main road is a promenade, overlooking the River Derwent.
The third and fourth pictures illustrate the Jubilee Bridge, a pedestrian footbridge built across the Derwent in 1887 to commemorate (presumably) Queen Victoria's golden Jubilee. Or something like that.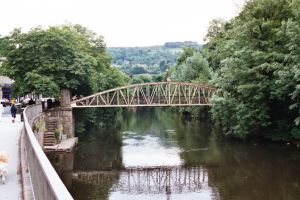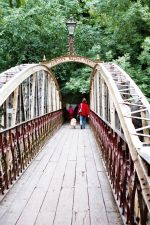 For more on Matlock Bath, visit: