The Brecon Beacons
The A4067 - Nr Cray Reservoir
The A4067 has four distinct sections. The first is from Oystermouth to Swansea, where it runs along the sea front. The second section runs through the city to the M4 at junction 45. The third section runs along a much improved route in the Swansea Valley between the M4 and Ystradgynlais, and the final section runs from here to the A40 at Sennybridge. It is this last section that is of interest to us.
After leaving the upgraded road near Ystradgynlais, we pass Craig-y-nos Country Park and Dan yr Ogof show caves. From here, the road begins to climb, quite steeply, out of the Tawe valley and into the mountains of the Brecon Beacons National Park.
The top of the pass reaches an altitude of 369m, or 1,211 ft, and it is from near the large lay-by marked here that the following photographs were taken.
The first image is taken looking south from a smaller lay-by on the west side of the A4067. The second image is taken from the same lay-by, this time looking north. The third image is taken from the larger lay-by marked on the map extract, in this picture looking south.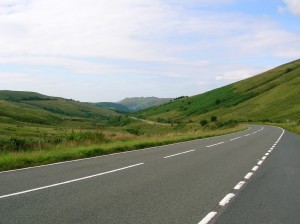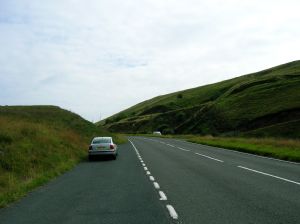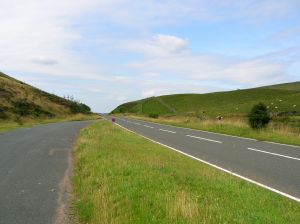 The final two pictures are in fact the same picture. It was taken from the opposite side of the road from the previous picture, looking north towards the Cray reservoir, which is just coming into view at this point. Here, we have crossed the watershed - rainfall here finds its way into the see via the River Usk in Newport, rather than the Tawe in Swansea.
The other picture is an enlargement of the previous picture, focussing on the reservoir itself. You can just about pick out the detail of the dam on the other side of the lake.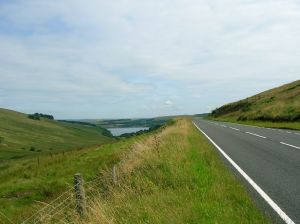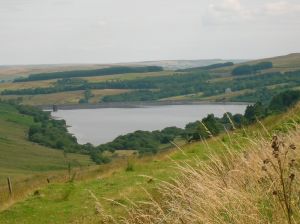 ---
Brecon Beacons - Intro and Visitor Centre
Brecon Beacons - A470 - Part 1
Brecon Beacons - A470 - Part 2
Brecon Beacons - A4059
Carreg Cennen Castle
A4067 Cray Reservoir
---
Copyright © 2005 Simon Davies