Brecon Beacons - Brecon to Hirwaun
A470 - Part 2
Here is a view of the A470 looking north-west from the stone bridge shown in the second picture on the previous page.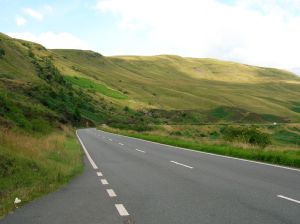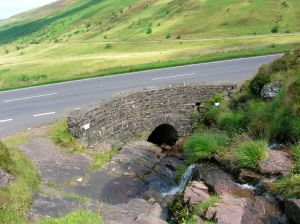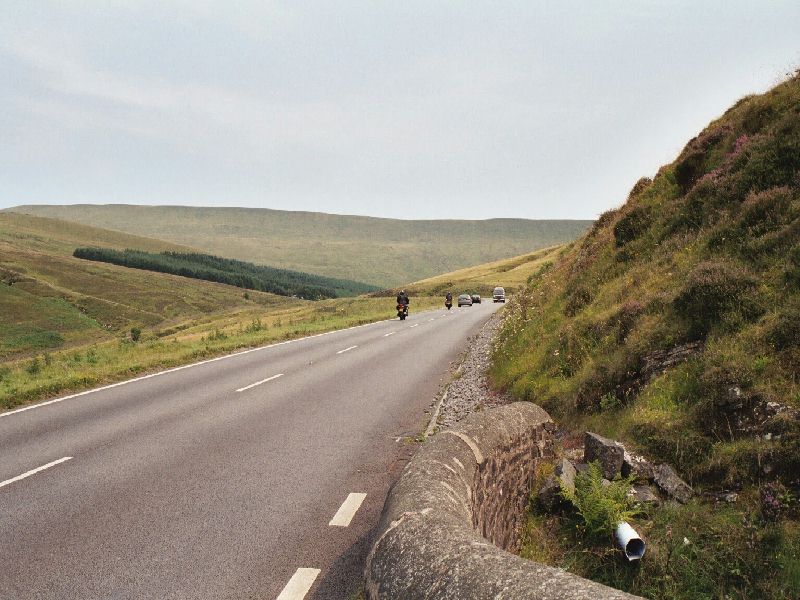 This is the original photo included on this page, and was taken in summer 2003. It is also taken from the lay-by next to the stone bridge just short of the Storey Arms Centre, and just short of the head of the pass. The reason for stopping on this particular day was that the car had overheated - not because the climb was particularly arduous, not even because the day was so hot, but because the radiator had sprung a leak. I topped up the engine with water from one of the mountain streams which babble down the hillside and we made our way.
The pass reaches a height of 439m, or 1,440 feet, which makes it 150 feet higher than either the Wrynose or Hardknott passes, though you don't feel as if you are anything like as high. The next two pictures were taken a couple of days after the majority of those on this page, in poorer weather conditions (that's my excuse for poorer quality. Not very good, I know). They are taken heading northbound, just to the north of the head of the pass.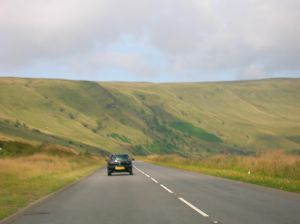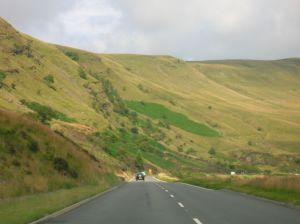 The top of the pass (Storey Arms) also marks the main starting point for the route up Pen-y-fan, the highest of the Brecon Beacons and the highest peak in South Wales. Just to the south of Storey Arms is a large lay-by / carpark. The next two pictures are taken looking north and south along the A470 at the entrance to the car park.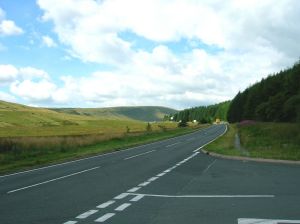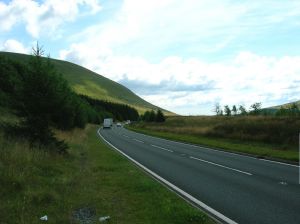 There are a few patches of woodland around here, then after passing the Beacons Reservoir on the right, we turn right onto the A4059, dropping into the valley to cross the top of the dam before climbing again, away from the trees and onto exposed moor land. To see the A4059, move on to the next page.
---
Brecon Beacons - Intro and Visitor Centre
Brecon Beacons - A470 - Part 1
Brecon Beacons - A470 - Part 2
Brecon Beacons - A4059
Carreg Cennen Castle
A4067 Cray Reservoir
---
Copyright © 2004-2005 Simon Davies