Princetown to Dartmeet - Part 2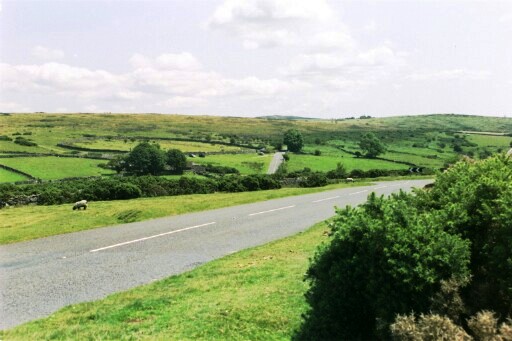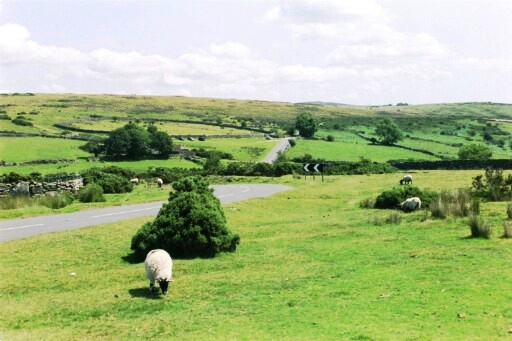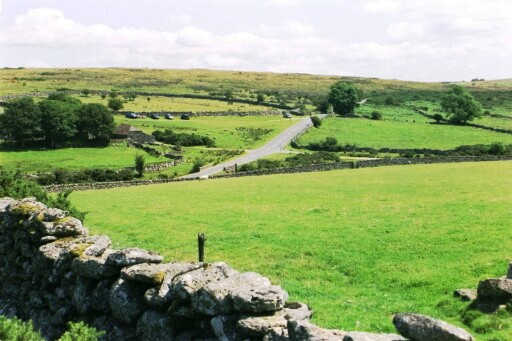 East of the milestone shown on the previous page, we reach another, larger, car park, offering good views across the road, as well as along the line of the road itself. The next sequence of photos illustrate the way the road disappears from time to time as it negotiates small valleys in the open landscape of the moor. The third picture in the set also shows the detail of the stone walling that can be seen all over the moor.
As we continue east, we reach the edge of the exposed moorland and descend steeply to a bridge over the East Dart River at Dartmeet, where the B road ends, and the way forward is up a steep unclassified road, which is not featured here (yet...). Dartmeet is very popular, a large car park giving access to footpaths alongside the river, as well as to a hotel / restaurant, the Badger's Holt.
The pictures shown illustrate:
the bridge at Dartmeet
the East Dart River north of the Badger's Holt
the width restrictions, steep hills and no buses sign on the unclassified road climbing steeply to the east of Dartmeet
These restrictions are the main reason the B3357 stops at this point and the ongoing road is unclassified - it is hard to believe that the whole thing was once an A road.
---
Dartmoor - Introduction
Tavistock to Princetown
Princetown to Dartmeet - Part 1
Princetown to Dartmeet - Part 2
Towards Postbridge
---
Copyright © 2004 Simon Davies