Wrynose and Hardknott Pass
From Ambleside through Great Langdale
Though not strictly part of the roads over the Wrynose and Hardknott passes, I have chosen to describe the entire drive from Ambleside to Ravenglass through Great Langdale and across the Wrynose and Hardknott passes. My most recent trip was in April 2004, which is when I took the photographs that appear on this site.
On that occasion, I did what the Romans did - I travelled from Ambleside, though I went via Great Langdale, rather than Little Langdale. We start on the A593 on the Ambleside one-way system, but soon we are out of town heading towards Coniston. A mile after passing the Hawkshead turning on the left, we turn right onto the Great Langdale road - the B5343 at Skelwith Bridge. Hidden away to the south of the road, behind the Stone Mason's yard, is Skelwith Force - an impressive waterfall fed by the Great Langdale Beck from Elterwater. There is a flat walk alongside the river to Elterwater from here, which affords magnificent views of the Langdale Pikes and Coniston Old Man.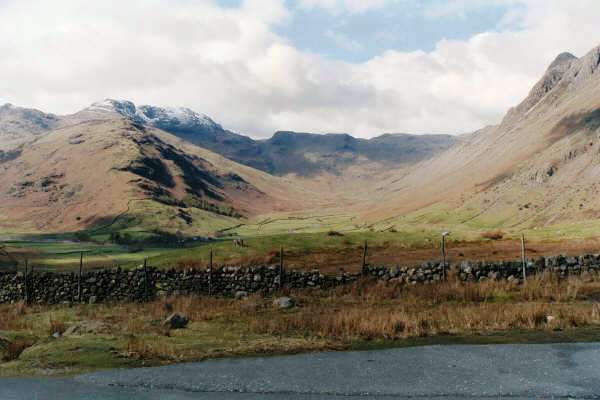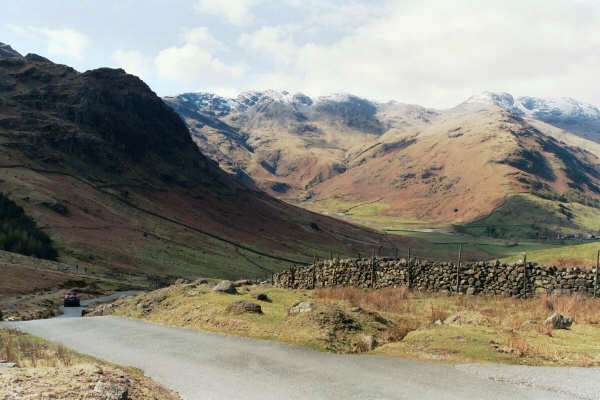 Returning to our vehicles, the B road takes us on to Elterwater - each bend revealing a new prospect of the Langdale Pikes ahead. Beyond Elterwater is Chapel Stile, complete with the Wainright Inn, presumably named in honour of the legendary Fell-walker, A. Wainright. Both villages have a high proportion of holiday cottages and B&Bs, illustrating how dependent the area is on visitors. Our road continues through Great Langdale, past the New Dungeon Ghyll Hotel, the character of the road in the valley changing as the tree coverage diminishes.
At the Old Dungeon Ghyll Hotel, we pass a campsite before reaching what on the face of it is the end of the road! Not so - we turn left along a narrow lane across the broad valley floor. After passing a cattlegrid, we begin to climb upwards and out of Great Langdale, making for Little Langdale. The last four photos on this page illustrate the views from a vantage point half way up the climb out of Great Langdale. North and west of here, Great Langdale is divided into two valleys by Bowfell - Oxendale on the left and Mickleden on the right. Neither of these valleys has a public road within them.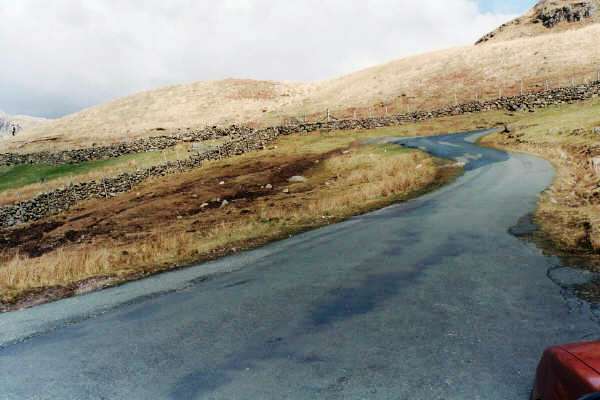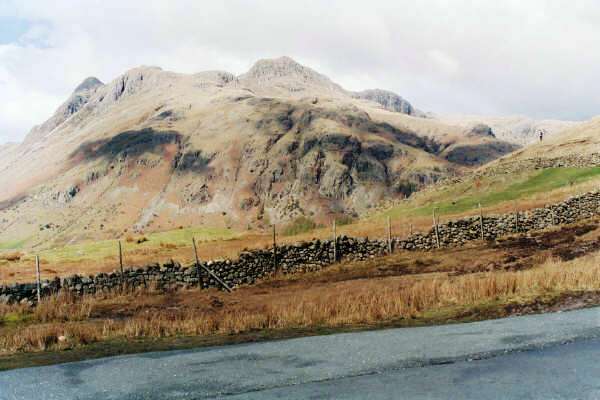 The third picture is taken from the same location, this time looking at the road making its way up the hill en-route to Little Langdale. The final picture is a view of the Langdale Pikes.
---
Wrynose and Hardknott Pass - Introduction
The Route - Great Langdale
The Wrynose Pass
The Hardknott Pass
The Descent to Eskdale
Other Lakeland Passes
---
Copyright © 2004 - 2005 Simon Davies