Hardknott Pass - The Descent
The Descent to Eskdale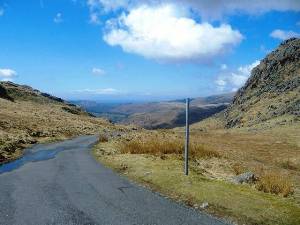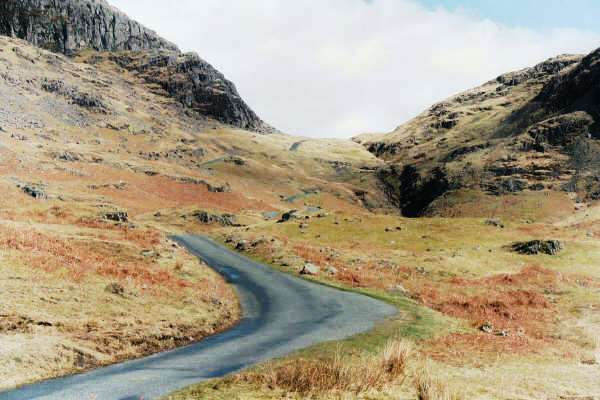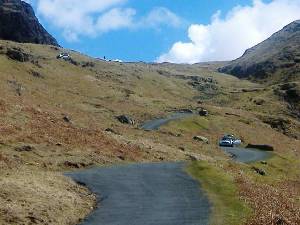 From the top of the Hardknott pass, the road descends into Eskdale in much the same manner as it climbed from Wrynose Bottom.
We start with another view from the top of the Hardknott Pass by Nic Storr - this time looking towards Eskdale. Then the road begins the long twisty descent into the valley. It is narrow and steep, but a fantastic drive. The third picture is another from Nic Storr - this time looking back up the pass - he was evidently there on a popular day! The positions of the cars dotted around the hillside gives you an idea of the shape of the road.
It's worth parking at the lay-by next to the Roman Fort site, about half way down the pass on the right hand side. Take a short walk up the grassy slope on the right as you look down into the valley. After a few minutes, the road disappears and, as you gain the crest of the slope, a new panorama opens up before you.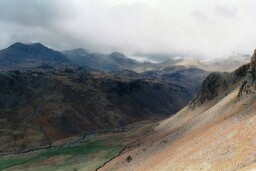 Looking back up towards the top of the pass, you can see the road wind its way round those hairpins. From here you get a true sense of the pass as you see the surrounding hills dip down to the top of the pass, creating the saddle that can be seen in some of the photos on this site.
Turning to the north, we see a view of England's highest peaks which, if you stayed on the road, 5 minutes walk away, you'd never know was there. The view of the peaks improves as you approach the top of the steep sided Valley of Eskdale
Amongst the visible peaks are Scafell Pike, Scafell, Great Gable, Bowfell and Crinkle Crags, though you do need to move around a bit to see all of these as the local topography obscures some of the peaks. The two photographs of the high peaks were taken within an hour of each other. In the foreground of the lighter coloured photo is a reasonably flat expanse of grass. Beyond this, not immediately apparent from the photo, is the steep-sided valley of Eskdale. The darker photo was taken later from the top of the grassy mound on the left hand side of the lighter photo.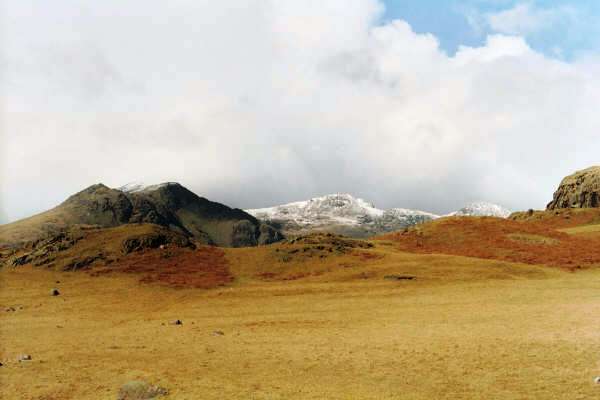 Our journey through the passes ends as we continue down the road towards Eskdale. Gradually the valley broadens out, the road becomes wider and straighter, and the surrounding vegetation changes from that wild, barren, yellowy-brown colour to a more refreshing and vibrant green. At Dalegarth, we reach the Ravenglass and Eskdale Railway, (La'al Ratty) where you could get a steam train to the coast. This concludes our journey through the heart of the Lake District, visiting some stunning mountain scenery on amazing mountain roads.
Thanks again to Nic for the additional photos - they make a huge difference to these pages.
---
Wrynose and Hardknott Pass - Introduction
The Route - Great Langdale
The Wrynose Pass
The Hardknott Pass
The Descent to Eskdale
Other Lakeland Passes
---
Copyright © 2004 - 2005 Simon Davies