The Gower - The A4118 to Rhossili
On to Penrice
After leaving Parkmill, the road narrows again and climbs up towards Penmaen, through a heavily wooded section. I did take some pictures of this area, but they were not particularly good and so I haven't included them here. As we come out of the trees, we catch a glimpse, for the first time, of the sea on our left hand side.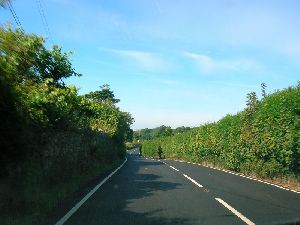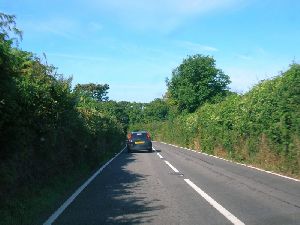 The next section is reasonably open, but high hedges mean that we only get occaisional views of the sea. This continues until we reach the gatehouse of Penrice Castle - not that there's much left of the original castle.
After this, the trees close in again as we head towards Knelston, passing an isolated farm on the left hand side.
After passing Knelston, the road goes round a very sharp left hand bend. The photo below shows this bend taken from the south.
---
Gower - Fairwood Common
Gower - Parkmill
Gower - On to Penrice
Gower - Scurlage to Pitton Cross
Gower - Middleton to Rhossili
Gower - Worms Head
Gower - Reynoldston and Cefn Bryn
Gower - Cefn Bryn to B4271
Gower - The North Gower Road<
---
Copyright © 2005 Simon Davies